Welcome to the '80s.
A dab at color, a rare special guest appearance.
Working on it
1978 moves along, trying to draw since nothing else seemed possible. May have even started learning lithography.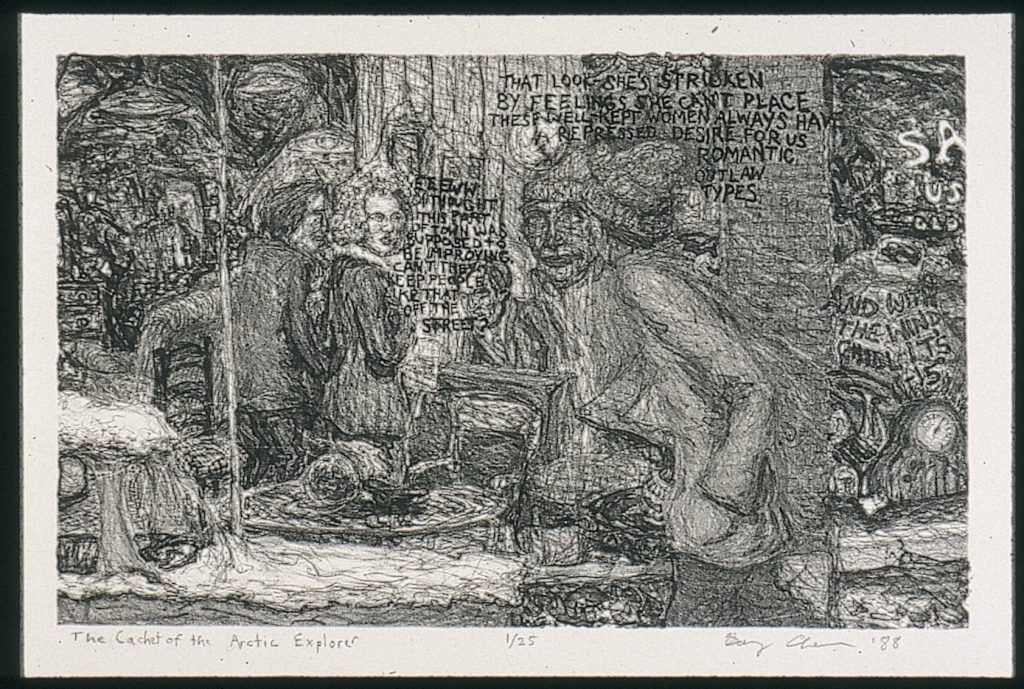 despite the forecasts, it turned out that today was more beautiful than yesterday.
The sky, appearing at first a soft even grey, reveals itself to the deeper gaze as a complex gauze of endless and unregimented strands. In the reduced palette of the gray, the constant contradiction can be sought out. That constant contradiction of the purple and green, which hides in shadows in the gaudier flashes of open sun, is playing everywhere across the largest of spaces of sky available, and there to come from the hidden obvious, lighting and intensifying itself from inner tiny fires banked against the infinite cold. "Here, see my heart! I reward you oh lone seeker!" Proud imagining of reward, available in this arena to even the one giving a moment to try to work with the failing old eyes.
Oh, I had heeded the warnings and done what I could with the hey-making yesterday what with it being Spring and all, anticipating a day of no emergence as the ice revenged today. But, a couple of partly contrived, partly coincidental errands proved enough to convince me to go out to do walk just enough, anyway. The wind in my face immediately affected judgement, there was no way to rule more enthusiastically for advance or retreat (though the latter may have allowed a second thought of retrieving mittens and balaclava). In the lapse, a great furor arose in the court. If nothing else the issue of remaining sanguine, moving blood about enough to avoid immediate demise in any case, at last and post haste was recognized.
Once underway, and under the sky (see scene one), it seemed one might just as well go down a ravine after all. There was less traffic and blather of other humans to filter this eve, anyway.
When it was sunny, there was that struggle to concentrate on the voice of the water over the humans. Like, despite efforts who can filter a lawyer who shows up in the park apparently just to speak loudly and repetitively about client billing and tax returns while managing her children and dogs. (The children and dogs were cute, but thwarted in their goals, starved for attention and riddled with unheeded anxieties about each others' mortality. "But, I just don't want her to die!" "She's fine." "I don't want to go back to the house, we just got here." "Mommy forgot to make a phone call." "Davey is staying" "He's with Jeremy." "Why can't I stay with him?" "Because that's not what we're doing." Stick with the plan, no matter what happens; unless you have to make a phone call.)
Turning toward the ravine seemed to signal for a shift toward moodier lighting and more dramatic effects. I got the best of the snow, in my face and skirling across the blacktop in wild crack-the-whip lines. Foot traffic was light on the descent, just a couple hardy souls in their big metal shells running their engines and leaving their lights on to spoil the skyline. But, oh, above, the fingers of the trees. More overall and above all than even yesterday, between the broader dark and slightly less dark grey. Above and calling for attention with their confusing but pointed gestures. So many hands, so many fingers. More and more as they pull the gaze. The fingers are dividing, multiplying, getting tinier and more to the point all the. I feel them in my fingers, the cold that has worked through the inadequacies of gloves heightening attention and identification. Pointy, prickly little sticks burn at the ends of my sleeves. But, surely I didn't have that many fingers when I left the house? They must be bundles of fingers within each finger that mirror the trees. The veins themselves, each becoming its own pointy hot messenger.
"And so ends 1978" and begins 1979
Then… Suddenly… A decade or so later…
If the contradictions and trouble in my mind were going to keep me from doing anything, maybe I'd have to just do them.
Click any image to open gallery. Click 'Zoom' button in upper-right to actually see them.
…and we, poor players with struts for frets; in flour upon the stage. And then are herbivore. It is a tale told by an ideolog, full of Sgt. Fury and Signifying Monkeys.